Zoom Chair Yoga


February 26 (Friday) at 11:00 am
ONLINE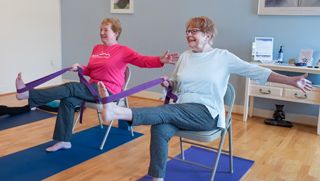 Receive the calming benefits of yoga with additional strength and balance practices in this class utilizing the support of a chair and other props. Suitable for everyone, especially those who need to primarily use a chair for their practice. This class takes place on Zoom.
Suggested props to have available include:
chair
2 yoga blocks or books
strap
blankets or beach towels
light hand weights or water bottles or soup cans
elastic bands or tubes
therapy balls
tennis ball
Sorry - that class has already taken place!